Our PP ring bobbin mould is done, which is working on textile industry. Taizhou Heya Mould Co.,Ltd( @heyamold ) is a chinese plastic mould factory which making injection mould according to your sample or customized requestments. There also manufacturing jug mold, plate molds, water bucket mould, laundry basket mold, storage box mould, plastic mop mold, dust pan mould, etc. For more detail, welcome to contact us: Phone&Whatsapp: +86-13606869406 Email: admin@heyamold.com For more product, welcome to take a view of our website: www.plasticmouldtools.com

1. R&D:We suport customer R&D. Make the files or inprove the design if you needed.
2. Quotation Making:Mould quotation will be finished in 1 day according to information we get.
3. Negotation:The quality, price, material,delivert time, payment item ect.
4. Mould Design:3-5days for mould and product 3D/2D drawing design.
5. Mould:According to customers'request to build the mould before make the mould. We send mould design to customer approval first. Mould will be usually finished in 40-50 days.
6.Mould Testing:When moulds are finished, we test the moulds to check it satified consumers' needs.And we will send samples for consumers'reference.
7.Sampleshoot:If the first sample come out is not satisfied customer. We modify the mould and until meet customers' satisfaction.
8. Delivery:Delivery goods by sea or by air, according customers requirement. 
Name: Factory direct produce quality plastic shelf injection mould 
Mould material:NKA80,S136, 2316,2736,H13,718H,P20,45# ect.
Product Material:PP,PE,PC,PA,PS,PU,PVC,PMMA,ABS ect.
Cavity No.:Single or multi.
System of runner:Hot runner,cold runner,pin-point gate,hydro-cylinder etc.
Time pf mould production:45 days -60 days.
Guaranteed Number of Cycles:300,000-3,000,000 
Mould design software:UG,IGS,STP
molds we make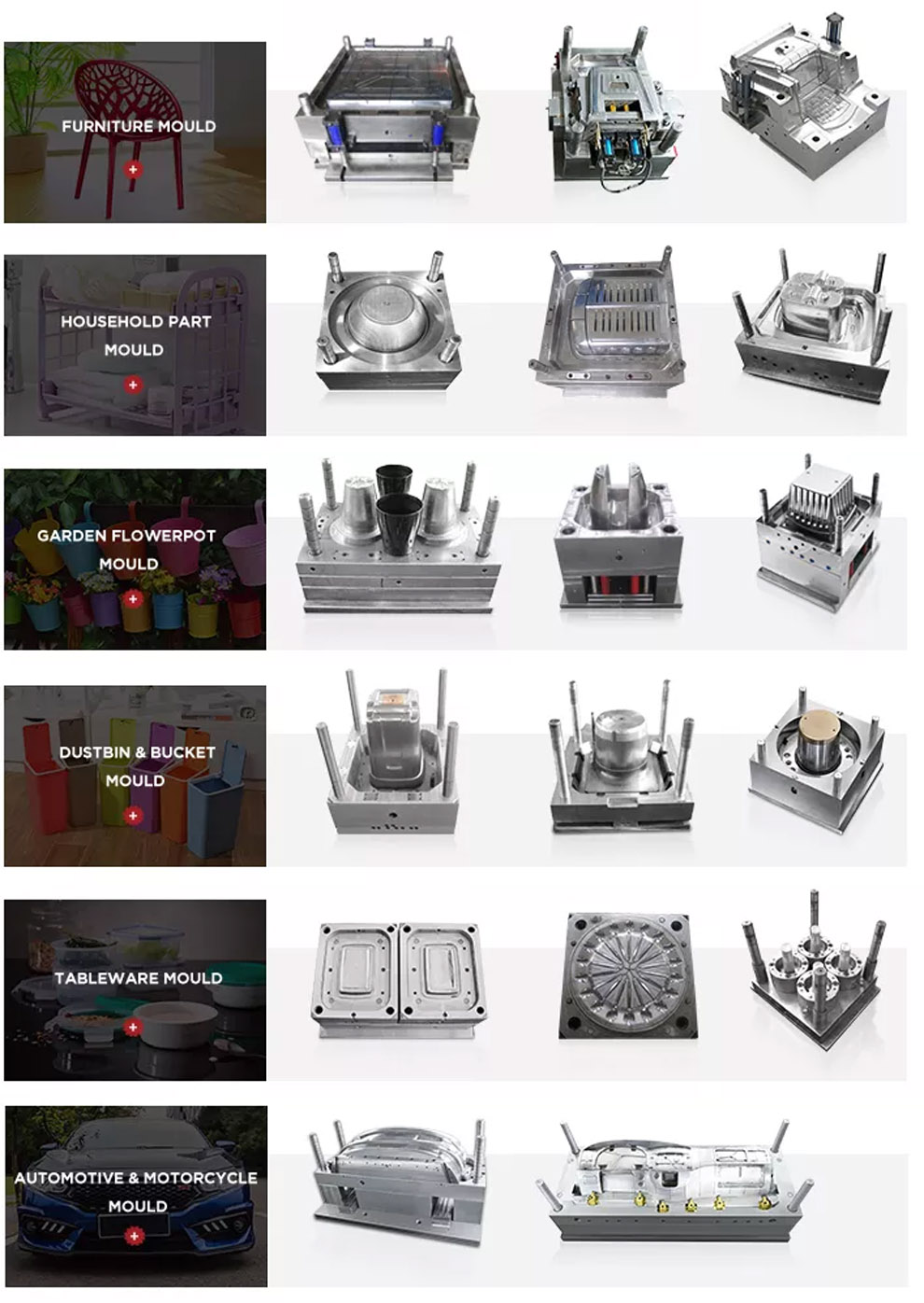 MOULD MAKING
1.Samples/Drawing &Requirement from you
2.Mould design:we will Communicate and Exchange the opinion with you after you place order.
3.Material Purchase:Steel cutting and Mould base tooling.
4.Assembling.
5.Inspection of mould : following and controlling the tooling processing.
6.Mould testing:We will inform you the date.Than will send the sample's inspection report&injection parameters with the sample to you!
7.Your instruction &confirmation for shipment.
8.Ready made mould before packing.